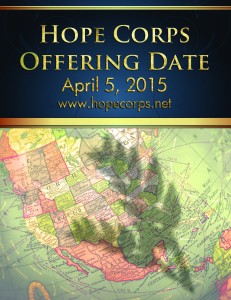 CLICK HERE FOR DETAILS FOR EASTER OFFERING!
Are You Interested in Joining Hope Corps? 
Fill out this 
Interest Form
! 
Alumni Applications accepted starting  March 9 at 9:00 pm PST  - Closes March 23 at 9:00 pm PST
Applications accepted until midnight March 25th

"Hope Corps has affected the way I think about some things, the way I pray, the way I witness and teach…It has affected my ministry in quite a few ways, strengthening my grasp on God and His ways so that I might be utilized better to help strengthen others."  - TRENTON BASS
 Hope Corps is a non-profit organization that is fueled by donations from people like you.
Show your support for Hope Corps. Donate today!
Hope Corps is a powerful and growing program that involves apostolic young people, singles, couples, and retirees in meaningful kingdom-building activities around the world!
Hope Corps is you doing a mission – for one week, one month, three months, six months, one year, or longer.
Hope Corps is you putting God first in your life. Hope Corps is you making a real difference in your world.
Hope Corps is you making your life count. Hope Corps is instilling Conviction, Vision, and Valor.
Conviction
CA knowledge and revelation of our distinct Apostolic doctrines and a heartfelt commitment to them as absolute truth. With a clear understanding of truth comes the conviction that what we believe is indeed Truth.
Vision
VA burden for a lost world and a desire to be sold out to the mission of service in the kingdom of God, not just for one year but for a lifetime. Vision includes the mission of the church and of the individual. With vision comes the ability to see all things through the perspective of the kingdom of God. Vision enables us to discern between the temporal and the eternal and to place our values upon the eternal.
Valor
VConfidence and boldness to face any person anywhere without fear and with the calm assurance that our message is validated and proven and our feet are on the solid rock of Truth.